Our Team
Our expert veterinarian doctors and skilled vet staff are ready when your pet needs us. Call or contact us today to learn more.
Many of our team members are cross-trained to better serve you and your pet. You may see your Boarding Attendant working at our front desk or assisting Veterinarians in rooms. Their passion for pets and their people can't be contained in a single department!
Licensed Veterinary Technicians
Alice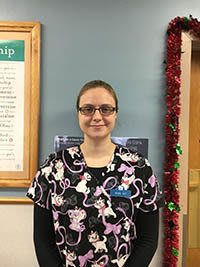 I'm from Buffalo originally and obtained Bachelor's degrees in linguistics and European History at UB. I ended up in Chicago where I earned my Vet Tech degree and have been in small animal practice since 2012. I'm happy to have come back to Buffalo with my Husband, Son, and cat Jack. I love reading, sewing and playing video games, as well as puppy and kitten snuggles! I like the range of skills I get to use every day and love helping to educate clients, especially about their pets' nutrition.  (You can book a nutritional consult with me J  )My co-workers call me a "Bottomless pit of knowledge" because I love learning all of the things!
"You're mad, bonkers, completely off your head. But I'll tell you a secret. All the best people are." Lewis Caroll, Alice in Wonderland
Dawn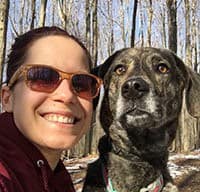 I've always had a passion for animals and nature. My family was outdoors often, hiking, camping and kayaking. I love parrots, video games, playing soccer, and spending time with Stella-my playful pooch. I've been a Tech since 2007 and was employed by the SPCA Serving Erie County where I acquired my NYS Wildlife Rehabilitators license and spent 8 amazing years rehabilitating New York's native wildlife. Wanting a new challenge, I decided to change fields and work with domesticated furry family members, and have been here at Buffalo Small Animal since the fall of 2015
Holly
My husband Alan and I live with the spirited and fearless Arnie. He is an adopted Yorkie mix from the Buffalo Animal Shelter. My hobbies include baking and wine making.  I've been a Vet Tech for over 30 years and feel lucky to work in a job that I love. I'm always interested in learning new things and keeping current in best practices in veterinary medicine.
(Holly is so great that we call her our "Fairy Techmother" J )
Boarding Attendants & More
Sarah - Groomer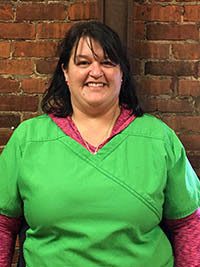 I have groomed pets for over 10 years locally. I have shown dogs since I was 10 and have finished over 20 Champions in AKC shows. For years I was ranked #1 in the country as a Junior Handler for Great Danes.  I used to race Go Carts, love sports and watching hockey and football, and have an Associates degree in Culinary Arts.  I may also be obsessed with coffee!
I love being able to work with animals every day, there is never a dull moment! I learn something new each day from my co-workers.  If you pass by the grooming salon you may hear me saying: "Oh my Goodness!" Or "You're just a Babyyy!" to one of my grooms.