Our Veterinarians
The Buffalo Small Animal Hospital team of skilled veterinarians welcomes you to our practice. At Buffalo Small Animal Hospital, it is our daily privilege to provide quality vet care to your cherished pet, with compassion and competence. We hope to ensure a positive impact on our patients, pet owners and the local community.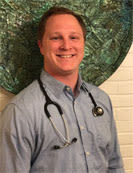 Dr. Garrett Coffman
Dr. Garrett Coffman was born and raised in a small town in Northern Indiana. He grew up with a large family and a lot of pets. They ranged from the usual cats and dogs to lizards, sugar gliders, deer, and llamas. After developing his love of family and pets he went to Southern Virginia University to play soccer, study business, become a teacher and work with his family's summer concession business. After meeting his soon-to-be wife and being exposed to the veterinary profession, he decided to change his plans. He wanted to put his love of animals to use and help people through their relationship with animals by becoming a veterinarian. He obtained a bachelor degree in Liberal Arts with a minor in biology at SVU and then pursued his DVM degree at St. George's University. He spent three years in Grenada before finishing his clinical training at the University of Georgia.
Dr. Coffman moved to Buffalo in 2017 with his wife, two children, a giant cat named Alfred, a goofy mutt named Plato, and a rescued island dog named Penny. Being new to the area, Dr. Coffman enjoys exploring the Buffalo area's parks, shops, and other attractions with his family. He also enjoys any type of sport and playing the piano.
Dr. Elizabeth Koelmel
Dr. Koelmel grew up in Hamburg, NY. Her childhood home was always full of dogs and cats, and she spent a majority of her free time at the local horse stable, where she rode competitively through high school. Dr. Koelmel graduated from Haverford College in 2009 with a B.A. in Economics. While at Haverford, she played lacrosse. After college, Dr. Koelmel returned to Buffalo, NY, where she gained work experience in the veterinary field while completing her remaining pre-veterinary requirements at the University at Buffalo.
Dr. Koelmel graduated from Cornell University College of Veterinary Medicine. While at Cornell she worked in the large and small animal hospitals, fostered kittens, and adopted her one-eyed blind dog, Lillie. Dr. Koelmel's interests within veterinary medicine include preventative medicine, primary care surgery, and shelter medicine. She has a big soft-spot for cats, as she has three of her own, and has a special interest in feline health and wellness.
When not at the animal hospital, Dr. Koelmel likes to spend her free time with her family (both furry and human) and friends. Dr. Koelmel loves all sports, and she is an avid Bills and Sabres fan. Her favorite pastimes include running, enjoying coffee, craft beer, and reading.